We have created youtube channel to show off all of the great features and effects that we can add and design into the pins.  Also check into our page to see videos submitted to us by teams, and staff about new pins and process that we are coming up with.  
---
Choosing the plating of your pins is very important for many reasons.  It is important to match the design of the pin to the plating that will be put on the metal. Also if you do not know what style of plating is best for your pin design we can help you out in that department.  Sometimes the different plating options do not work well with certain colors or pin designs, so you can always ask for our help in this area.
---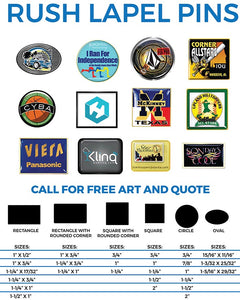 Rush Trading Pins in 2-5 Days With trading pin production as fast as 2-5 days we can meet most any tournament deadline. Take a look at the examples on our Rush 2-5 days page and you will see how colorful your pins will be. Even at the last minute you can relax and count on us to take care of your team.
---
Fast Production: Do you need trading pins fast? Did you just qualify for an event and now realize nobody had the pins made? If for any reason you are rushed and need help then call us. We have heard thousands of stories from our customers who for one reason or another do not have trading pins and need them fast. Custom trading pins is our specialty, so why not rely on us to do the job for you.
---
Top Quality and Unique Design: There are two main ingredients to creating an award winning trading team pin. The first ingredient is to offer a top quality pin at a reasonable price. For this reason we have developed both the  Enamel and Print processes. Each offer you the opportunity to create beautiful trading pins at very reasonable prices. Enamel pins offer the traditional look of enamel with metal separating colors. Print is a great option for team pins with gradients, tiny details or numerous colors. The second key ingredient to a great trading pin is design. We take great pride in creating pins that...